Just being in Jersey City will make you happy - Pint's insanely cheap happy hour will make you dance for joy!

$2 shots of tequila and whiskey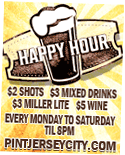 $3 pints of Miller Lite*
$3 mixed drinks
$5 glasses of wine

Plus free hot popcorn, friendly bartenders and our super cool Rockbot.

Every day til 8 p.m. (except Sundays - because wow, are our Sundays insanely cheap!)

*Did you know most bars use 12 oz beer glasses? At Pint we only use full 16 oz glasses - a true pint every time!